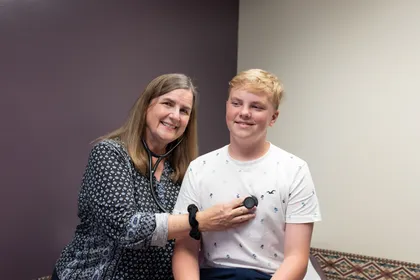 Karen S. Loper, MD
Pediatrician
Dr. Loper received her undergraduate degree in Biological Sciences and Psychology from Stanford University. She attended medical school at UCSD and completed her Pediatrics residency at Harbor- UCLA Medical Center in Torrance, CA. During her residency she found that she was drawn to her adolescent patients and the special issues that they face, so she pursued and completed a 3-year research fellowship in Adolescent Medicine at Children's Hospital Los Angeles. Dr. Loper is Board certified in both General Pediatrics and Adolescent Medicine.
After her training, Dr. Loper joined the faculty at UCSD School of Medicine and enjoyed a 21-year academic career with many clinical, teaching and scholarly roles and responsibilities She was the medical director of the outpatient UCSD Adolescent Clinic and the inpatient UCSD/Rady Child and Adolescent Psychiatry Service, and she was a founding member of the inpatient eating disorder program at Rady Children's Hospital now called the Medical-Behavioral Unit (MBU). She also directed all of the educational programs in Adolescent Medicine for medical students and residents for many years and was nominated for the Kaiser faculty teaching award 5 times. She is a fellow of the American Academy of Pediatrics and a lifetime member of the Society for Adolescent Health and Medicine. Dr. Loper retains her academic title of Associate Clinical Professor of Pediatrics at UCSD.
Dr. Loper is thrilled to join the excellent team of physicians and staff at CHMA so that she can focus her attention on the part of her career that she loves most: caring for the healthcare needs of children and teens by understanding each patient's unique psychosocial context. Dr. Loper brings with her special expertise in sports medicine, eating disorders and adolescent reproductive health, and she has a special interest in identifying and addressing the mental health needs of children and adolescents.
Dr. Loper has been married for 25 years and has 3 children—a son and twin daughters—as well as 3 rescued dogs. She is an avid sports enthusiast, golfer and devoted fan of all of her kids' teams. She is an ardent supporter of the ASPCA and enjoys following politics and current events closely.